Recipe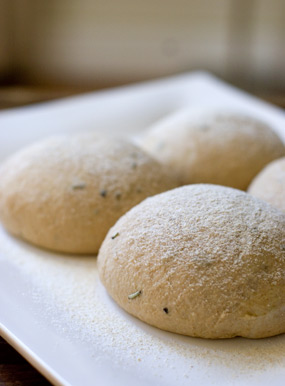 ingredients:
1 c. warm water (105-115 degrees)
2 tsp active dry yeast
pinch of sugar
2.5 to 3 c. whole wheat flour
2 Tb olive oil
1/2 tsp salt
cornmeal for sprinkling
directions:
1. Pour warm water in a small bowl. Sprinkle yeast, sugar, and 1 Tb flour over surface of water. Stir til dissolved and let stand at room temp. until foamy, about 15 min.
2. Mix: In a large bowl, place oil, salt, 1 c. flour, and yeast mixture whisk hard until smooth, about 2 min. Add the remaining flour, 1/2 c. at a time, stirring with wooden spoon until soft, sticky dough forms that just clears the side of the bowl.
3. Knead: Turn the dough out onto a lightly floured surface and knead to form a springy ball, dusting with flour when needed, about 3 min. The dough should be soft and springy. Form the dough into a flattened ball. (Optional - add seasonings to dough at this time...basil, rosemary, ect)
4. Place dough in a greased deep container. Turn once to coat the top and then cover with plastic wrap. Let rise at room temp. until tripled in bulk, about 1 1/2 hours. (The dough may be refrigerated overnight at this point. Let stand 45 min at room temp. before proceeding if you refrigerated the dough.)
5. Prepare toppings while dough rises. Preheat oven to 500 degrees at least 20 min. before baking. Put pizza stone in oven while preheating if using one.
6. After dough has risen, shape dough onto pizza pan (sprinkle both sides of dough with cornmeal if desired), pizza stone or cookie sheet.
7. Bake crust 5 min. at 500 degrees. Remove from oven, top the pizza and then return to over for 5-10 more minutes til dough is crisp and pizza toppings are warm and melted.